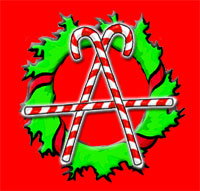 SANTARCHY RETURNS!
Santarchy will be a free-for-all, as usual. If you'd like, you can join Santa at
George & Dragon
on Central Ave at 11 AM for lunch and drinks. Santa will roll out on the light rail from there! We have no idea who is organizing this part of the event. Is it happening? Who knows!!!!
Be prepared to be in Downtown Phoenix by 5:30PM
This part is definitely happening. Information for this part will be emailed to all
Ticket Holders
on December 8th!
Santa's Toy-Drive Info:
Benefitting AZ Foster Children though Helen's Hope Chest, we will be accepting donations of new unwrapped toys, games, stuffed animals, books, art supplies, and gift cards ($20.00 or less) - for ages infant through teenagers. Please do not gift-wrap them.
Drop off location for the toys will be at the 5:30 PM locations.
- Thanks for your participation!
Stay tuned here and on
Insta
for a more definitive evening route schedule.
You want carols?? We got carols!!

We strongly encourage you to get tickets this year. Tickets are free!
Get Your Tickets Here!

Suggested route!!!
5:30-7:00 - Cham Pang Lanes & Palma
7:00-8:30 - Sazerac
8:30-10:00 - Breakfast Bitch
10:00-1:00 - The Pemberton (with DJs Laetor, Pac D, and D-Frag)
1:00-2:00AM - Choose Your Own Adventure!!!!
A brand new December is upon us. With it brings a return of Santarchy to downtown Phoenix.
ho ho ho
--Santa
---
PS, Do not go to any other "Santa Crawl" things unless you want to hang out with lame people. They charge money and they have nothing to do with the event that you all know and love. Us Cacophonists believe that Christmas and its usher, Santa Claus, should be free. Free like beer, and free like speech. Possibly free like speed? Just fucking free all the way.
---
Now Go read the entire
FAQ
Subscribe to the Email Discussion List (see MENU) to stay up to date with all the chilling details.