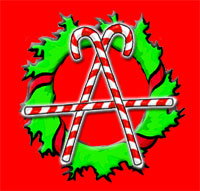 Friday December 15th, 2023
Santa says Friday this year!
Santa's Toy-Drive Info:
This year Santa is teaming together to support Phoenix Children's Hospital
Their biggest requests are Gift Cards! Specifically, denominations of $10 and $25 for Amazon, Walmart, Target, Five Below, VISA/Mastercard, Starbucks, Dutch Bros, Sephora, Ulta, Xbox, PlayStation, Nintendo eShop.
If you want to bring a more traditional toy, please refer to the wish list for
Infants and Toddlers
and the wish
list for Teens
for more info.
Toy Donation Guidelines
All donated toys/items must be new and in their original packaging. Used toys & items cannot be given to patients. For the health and safety of our patients, please do not wrap toys.
Please avoid donating items such as:
Play guns or war toys (Nerf style only accepted)
Latex balloons
Orbeez
Candy, gum or other food
Scary or violent action figures
Used toys, books or stuffed animals
Drop off location for the toys will be at the first stops and at the end..
- Thank you for being Santa!!
Stay tuned here and on Insta for a more definitive evening route schedule.
You want carols?? We got carols!!

We strongly encourage you to get tickets this year. Tickets are free!
Get Your Tickets Here!

A brand new December is upon us. With it brings a return of Santarchy to downtown Phoenix.
ho ho ho
--Santa
---
PS, Do not go to any other "Santa Crawl" things unless you want to hang out with lame people. They charge money and they have nothing to do with the event that you all know and love. Us Cacophonists believe that Christmas and its usher, Santa Claus, should be free. Free like beer, and free like speech. Possibly free like speed? Just fucking free all the way.
---
Now Go read the entire
FAQ
Subscribe to the Email Discussion List (see MENU) to stay up to date with all the chilling details.
Please use Instagram for real time updates.