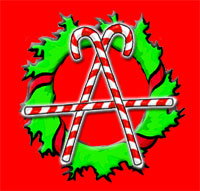 Frequently Asked Questions
Santa is feeling lazy, so there aren't any questions, just answers...
No, you don't really have to dress up like Santa. You can dress up like Mrs. Santa, Rudolph or another Reindeer, an Elf, a lump of coal, a candy-cane, etc.
Yes, you *MUST* dress up, and your outfit *MUST* fit the theme.
We do not condone or encourage any kind of vandalism or violence at a Santarchy event. Our santas do not destroy property, steal merchandise or do harm to others.
Santarchy is not a movement, that's what you do in the bathroom. In addition to that, the annual Santarchy events are not a protest against Christmas or commercialization. Really, it's just a bunch of santas getting together to have a good time.
We do not provide or sell any stock photos or video footage and all images on this website are copyright of their owners. If you want to use any photo on this website, please contact the owner of the photo directly.
You are responsible for your own well-being. Do not expect Santa to come to your rescue if you've been naughty.